Sand gold ore beneficiation process principle is to maximize the recovery of gold from ore by gravity separation and its associated various heavy minerals, and then re-election, flotation, amalgamation, electrostatic and magnetic separation operations will jointly selected from Gold and various heavy minerals are separated from each other and have achieved the purpose of comprehensive recovery. The classification of gold deposits is generally divided into processes such as crushing and screening, desliming and sorting.

First, crushing and screening

Many gold deposits contain cemented muds, which have a particle size of more than 100 mm. If the mud mass is not broken, it will be removed along with the waste rock during the screening process, resulting in loss of gold. In addition, the cement can be cemented on gravel or pebbles, and if it is not broken, it will also cause gold loss during the screening process.

On the gold mining ship, the crushing and screening operations are completed together inside the cylindrical sieve. The cylindrical sieve is provided with intermittent spiral angle steel. During operation, the washing water pressure in the cylindrical sieve should be no less than 35 kPa. In the land fixed plant, a washing bed is set up for disintegration and sieving. Two sets of Pinggui 50 or Pinggui i-100 water guns are used, and the flushing is repeated in the diagonal direction. The outlet pressure of the water gun is not less than 20 kPa.

Screening can eliminate 20-40% of waste rock (gravel, pebbles), which is an indispensable operation for gold ore dressing. The determination of reasonable screening parameters must be based on the measurement data of the strength of the gold in the original ore. At present, the screen holes selected by China's gold mines are generally 10-20 mm. If the fixed chute is used for roughing equipment, the screen holes can be larger, but not more than 60 mm. The screening equipment of the fixed selection plant is mostly grid sieve and vibrating screen, while the gold mining vessel uses a cylinder sieve. The flushing on the sieve not only improves the screening efficiency, but also further disintegrates the cement. Therefore, the screening operation of the gold mine is mostly a water sieve. The flushing capacity of the water screen is determined according to the requirements of the washing, and should meet the concentration requirements of the lower sorting operation as much as possible. If the tank is rough-selected, the flushing amount should be 8-14 times that of the sand ore.

Second, de-sludge

Materials less than 0.1 mm in gold ore are generally free of gold or contain little gold. For example, the gold of less than 0.1 mm in the gold deposit of Hunchun Gold Mine accounts for 0.18%, while the same grade of mineral mud accounts for 13.77% of the original ore. Gold less than 0.1 mm, commonly known as floating gold, is difficult to recycle during the sorting process, while the same grade of slime interferes with the sorting process, especially the mechanical sorting process. Therefore, in the sand gold mining machinery concentrator, always try to remove the slime less than 0.1 mm. The degreasing equipment commonly used in production is a mud hopper of various specifications, and the material allowed by the chute selection is wide in size and large in processing amount, so that the chute is not delimed before being selected.

c, sorting

Practice has proved that the re-election method is the most effective and economical method for processing gold deposits. Due to the different particle size composition of gold in the gold deposits, the effective grain size limits of the various re-election equipment are different. Therefore, the reasonable sand gold ore sorting process should be the joint operation of several re-election equipment.

The gold-bearing concentrate obtained from the rough selection section has a gold grade of 100 g/ton and a heavy sand mineral of more than 1-2 kg/ton. There are currently three methods for the treatment of gold-bearing coarse concentrate: 1. Manual gold panning After the gold particles are washed out, the heavy sand is discarded; 2. The mercury is mixed with the mercury in the mixing tank, and the heavy sand is discarded after obtaining the mercury paste; 3. After the gold is extracted by manual washing or amalgamation, the heavy sand is sent to the concentrate processing plant for treatment. The magnetic separation and electric selection methods respectively recover various heavy sand minerals.

The gold recovery rate of the gold mine: the two-stage chute is 70-74%, the chute rough selection, the jig sweeping, and the shaker selection process is 75-80%.

FIBER LASER CUTTING MACHINES




UTECH`s fiber laser machines are a must-have if you`re looking for quick and accurate cuts on sheets of metal. Metal fabrication shops and companies that manufacture customized metal parts can drastically improve their efficiency of production with our fiber laser cutting machines. Our machines are capable of cutting steel, brass, aluminum and stainless steel without fear of back reflections damaging the machine. By using these fiber laser machines, you`ll reduce your maintenance requirements and cut your operating costs considerably.




FIND THE RIGHT Fiber Laser Cutting Machine:




We offer laser power options at 1000W, 1500W, 2000W, 2500W and 3000W. With a maximum cutting speed of 35 m/min, these fiber laser machines complete jobs quickly with high-level precision. UTECH also offers machines with an enclosed working area to eliminate light pollution.

Product Application:




The

Fiber Lasers

bring you a cost effective, low-maintenance, low operating cost, environmentally friendly solution to your organization. We deliver a machine that provides quality cutting and tolerances with small productivity loss between jobs, equating to higher returnon investments. Our fiber laser cutting machines are developed and sold based on these criteria.

• Manufactured by people who use their own machines.

• The resonator comes with a 100,000 hour warranty from the manufacturer (IPG/Raycus)

• Higher cutting speeds possible

• Dual interchangeable tables allow for faster loading and unloading, reducing downtime

• Laser wavelength is one-tenth of a fiber laser

• Reduction in cutting variables or tribal knowledge

• Fiber Laser is extremely efficient, equates to very low power consumption

• Low cost of operation, energy cost reduced, no laser gases requied to produce beam

• High cutting flexibility (Steel, Stainless Steel, Brass, Copper, Titanium, Aluminum, and more)

• Laser beam transmitted through a fiber optic.cable rather than with mirrors and channel tubing resulting in negligible power loss.



Model

UT-1325

UT-1530

Option

Max Cutting Range

1300*2500mm

1500*3000mm

According to

Demands

Machine Size(L*W*H)

2.4*4.7*1.9m

2.4*5.7*1.9m

Accessory Parts(L*W*H)

Chitler 1*1*1.2m Control Box 1*0.8*1.8m

Fiber Module 0.5*0.6*0.14m

Laser Medium

Single Core Junction Semiconductor Module

Max Cutting Speed

25m/min

Cooling Way

Water Cooling

Laser Power

500W(Option 750W/1000W/2000W)

Min Line Width

0.1mm

Cutting Depth

0.2-6mm

Driving and Transmission Way

Imported Servo Motor and Linear Guide Rail

Power Requirements

380V/50Hz/16A

Continuous Working Time

24Hours

Related Weight

Machine Body 2732kg Trolley 116kg

Computer Cabinet 56kg Servo Cabinet 75kg

Transformer 77kg Chiller 93kg Fiber Module 50kg



Applicable materials and industry:

Fiber

Laser Cutting Machine

Applicable Target Customers

» This series fiber laser cutting machine is suitable for the customers who need to process plenty of thin metal sheet and high reflective metal materials.

Fiber Laser Cutting Machine Applicable material

» Specially for carbon steel, stainless steel, alloy, aluminum, galvanized steel, titanium, brass, copper and other metal sheets.

Fiber Laser Cutting Machine Applicable Industry

» Sheet metal working, hardware, kitchenware, electronic, automotive parts, advertising sign, furniture, lighting, decoration, jewelry, etc.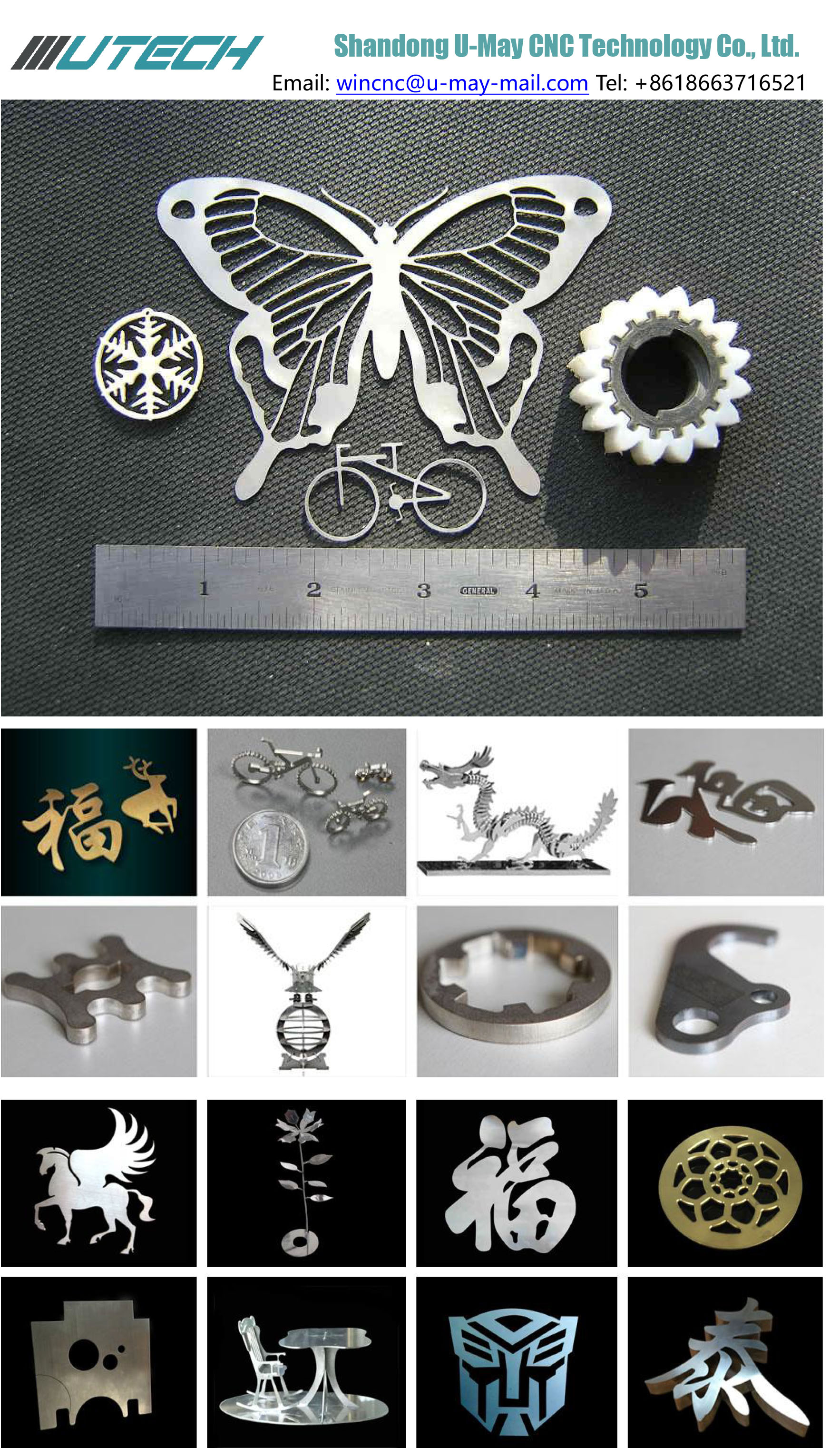 Fiber Laser Cutting Machine

Fiber Laser Cutting Machine,Metal Fiber Laser Cutting Machine,Fiber Co2 Laser Cutting Machine,Automatic Fiber Laser Cutting Machine

Shandong U-May CNC Technology Co., Ltd. , https://www.fiberlasers.de