Recently, a pure electric light truck using the Jianghuai chassis was found on the website of the Ministry of Industry and Information Technology. The car uses a lithium iron phosphate battery as a power source and will be available in the future as a detachable garbage truck. According to relevant information, this pure electric light truck has a load of less than 1 ton.

This new car uses the JAC light truck chassis, and has joined the new energy equipment such as batteries, was transformed into a pure electric vehicle, after the transformation was named Hualin. The length, width and height of the vehicle are: 4580mm, 1626mm, 1960mm. The maximum total mass is 2980kg. You can hang a blue photo and a friend holding a C1 driver's license can drive.

The vehicle's mass is 2010kg. According to the calculation, the car can load up to 970kg of cargo, even less than 1 ton. The vehicle is driven by a lithium iron phosphate battery, and the maximum speed can reach 80km/h. The vehicle body does not have its own ABS antilock configuration, and it requires the owner to assemble it.




Auto Parts:

With the increasingly fierce market competition of the Auto Parts manufacturing, with the concept of environmental protection of the people, and constantly upgrade and application on processing technology, the international auto parts processing parts industry in recent years shows the characteristics as follows:

Modular supply trend of auto parts processing;

Global procurement,and China becomes a big manufacturing base of auto parts;

Auto parts processing transfer fast.

How can we buy the most suitable automobile parts with the highest cost performance?

1. Packaging: The original accessories packaging in general is relatively standardized, unified specifications, clear and regular printing, packaging and printing of fake products are relatively poor;

2. Color: Original parts look in some specified surface color, if other colors found,that is fake and inferior part;

3. Painting: Some traders will apply scrapped parts by simple processing, such as dismantling, loading, spelling, collecting, painting and other process, and then posing as qualified products for sale;

4. Raw material: The raw material of the original parts is defined according to the design requirements of qualified materials spec, counterfeit products usually apply cheap and low grade raw material;

5. Processing: The appearance of some inferior products is sometimes good, but of poor workmanship, it is prone to be detected of cracks, sand holes, slag inclusion, burrs or bumps;

6. Identification; The regular part are identified with some marks, such as gear mark, piston top mark and other assembly marks, used to ensure the correct installation of parts.

What VESTA brings to you?

Based on ISO9001 and TS16949 system,from raw material selection to continuous improvement of manufacturing process, VESTA provide you a one-stop service for every auto part project solution,especially in chasis system and connection system,like Shock Absorber,hydraulic mounts,Ball Joint,Control Arm and Bushing Parts,etc.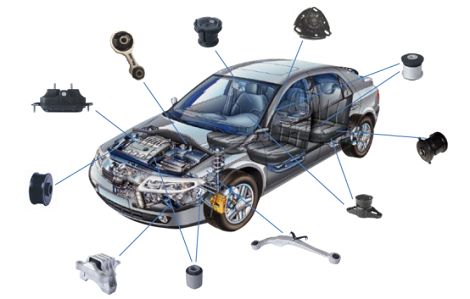 Auto Parts

Auto Parts,Automobile Parts,Shock Absorber,Hydraulic Mount

VESTA Motoring Ltd , https://www.vesta-industry.com